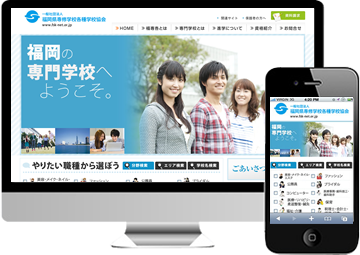 Senshu School was established as General Incorporated Association on April 1st, 2012 after obtaining permission from the Fukuoka Prefecture.

Fukuoka Senshu School Association
6F Yoshiduka-Goudouchousha, 13-50 Yoshiduka-Honmachi, Hakata-ku, Fukuoka City

Fukuoka Senshu School Association This Association was established by the corporation of all the Senshu Schools in Fukuoka with the goal to develop the entire industry. Each School supports to provide a better education for everyone.

In order to provide diverse information, the Senshu School Association investigates all kinds of Senshu Schools. The gathered information is available free of charge on the "Fukuoka Vocational School Guidance" (Official Guidebook). We also perform training sessions for teachers who work at the Schools, appeal to firms for employment, and hold "Fukuoka Vocational School Sports Competition" for all students in various Senshu Schools to have a satisfactory lesson.

The Fukuoka Senshu School Association currently consists of more than 100 participating Senshu Schools and other Vocational Schools